Beat the mid-year heat at these water-based theme parks around the region.
Beat the mid-year heat at these water-based theme parks around the region. 
If you're visiting MALAYSIA
LEGOLAND MALAYSIA WATER PARK
Located just across the Causeway, the world's largest Legoland Water Park recently introduced Build-a-Boat, featuring more than 30,000 Lego bricks. As the name suggests, guests get to construct their own boat using the bricks as they make their way down an 11m-long river.
Travelling in a big group? Don't miss Slide Racers, which requires visitors to race, head to head, down an uncovered slide against five others.
Other fun and thrilling rides available at the water park include: Build-a-Raft River, Joker Soaker, Lego Wave Pool Brick Blaster, Splash 'N' Swirl, Wave Rider and Tidal Tube.
How much RM101 (S$34.80) for kids and RM122 for adults (water park admission only). Find out more www.legoland.com.my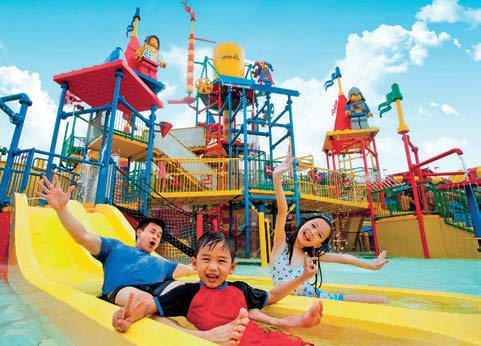 NICKELODEON LOST LAGOON
This character-themed park is the latest addition to Sunway Lagoon's five existing parks. If your kids are fans of Spongebob Squarepants, Dora the Explorer and Teenage Mutant Ninja Turtles, they will go crazy over the 14 immersive attractions here, which feature interactive play areas that use the latest in reactive technology.
For instance, your young explorer will get to climb "ancient temple" steps to pass pineapple columns and intricate carvings that lead all the way up to a magnificent Spongebob structure.
The adventure continues with geysers, sprouting water cannons, walks along cascading falls, and gooey moments with Nickelodeon's signature green slime. Running deeper into the forest are suspended bridges over rivers, more thrilling wet and wild activities, as well as gravity-defying rides that twist around trees and hills.
Stick around and your kids might even get to meet their favourite Nickelodeon characters. In addition to the rides, the park in Subang Jaya, Selangor, also runs a daily signature slime event and a variety of waterslide rides.
How much RM120 for kids under 12 years, and RM150 for visitors aged 12 and up. Find out more www.sunwaylagoon.com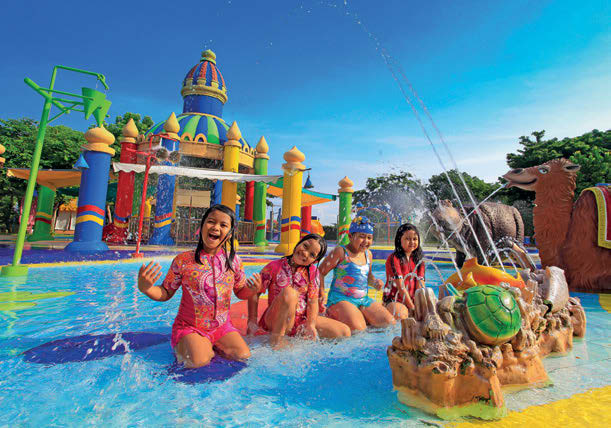 If you're visiting INDONESIA
CIPUTRA WATER PARK
This water park in Surabaya is inspired by the adventures of the fairy-tale character Sinbad the Sailor, and features plenty of Arabian-themed sculptures and tented gazebos.
The park is divided into six sections, each with its own rides and attractions. The most popular area for young children is the multi-structure Sinbad's Playground, which has castle towers, rocking suspension bridges and a water cannon.
For toddlers and kindergarteners, there is the Chimera Pool, which is 20cmdeep and equipped with small fountains, and the 40cm-deep Marina Lagoon, which has bridges to play on.
Older kids and adults will enjoy the 1,800 sq m Syracuse Beach wave pool, which creates small ripple waves and large waves for splashing about in, and the Racer Slide, which sees visitors descend at speeds of up to 70km per hour.
How much 105,000 rupiah (S$10.70) per person on weekdays, and 130,000 rupiah per person on weekends. Find out more www.ciputrawaterparksurabaya.com
WATERBOM BALI
Located in tourist hub Kuta, this park features a range of exciting, world-class water slides and rides on. Tots will love Funtastic, which features water cannons and jets, and body slides. The attractions at Funtastic claim to be safe for kids and are supervised at all times.
Older children will experience huge thrills at the Twin Racers attraction, where they race down a massive water slide on a mat. The slide includes plenty of twists and turns and features a drop at the end.
For a more relaxed ride with the family, check out Lazy River, where guests get to drift along a body of water and through cascading waterfalls on an inflatable raft. More daring rides include Python, Double Twist, Boomerang, Pipeline, and Fast N Fierce. Wannabe surfers or body-boarders can try the Flow Rider Double, which features a 1.5m stationary wave.
How much 370,000 rupiah for kids aged two to 11 years, and 520,000 rupiah for adults. Find out more http://waterbom-bali.com
If you're visiting SOUTH KOREA
CARIBBEAN BAY
Part of the Everland Resort in Yongin, on the outskirts of Seoul, this indoor-outdoor water park is pirate-themed and includes five zones: Aquatic Center, Sea Wave, Bay Slide, Fortress and Wild River.
It also has pools for infants and young children, equipped with water toys and other entertaining features.
The Water Bob Sleigh and Tube Ride slides, in the Bay Slide zone, are popular with older children and adults. But the park's most popular attraction is the wave pool, in the Sea Wave zone, which uses cutting-edge technology to produce waves of up to 2.4m.
For a more extreme experience, check out the Wild River zone, with rides like Tower Raft, which is a large tube slide track that accommodates four people, and Tower Boomerang Go, where the tubes slide down a 90-degree slope.
How much From 38,000 won (S$45) for children, and 36,000 won for adults. Find out more www.everland.com
If you're visiting THAILAND
CARTOON NETWORK AMAZONE WATER PARK
Located in Pattaya, this attraction is the world's first Cartoon Network-themed water park, with 10 exciting zones to discover.
For children who are least 90cm tall or aged three years and above, there is the aquatic paradise, Cartoonival. This play area is equipped with slides, fountains, tubes, and numerous water features. This is also where your kids can hang out with Ben 10, Chowder, The Powerpuff Girls and all their other favourite Cartoon Network characters.
Kids who are at least 120cm tall can try the other rides and attractions, like the Johnny Bravo-themed Banana Spin, which will see them take off with a thrilling drop through an enclosed high-speed tube before being launched into Johnny Bravo's Banana Spin bowl.
Here, centrifugal forces keep them high on the wall for several turns, when they're suddenly sucked into the corkscrew core, splash landing through a water curtain and into the plunge pool below. For a more thrilling adventure, there is Alien Attack, where Ben 10 alien stars NRG, Cannonbolt and Swamp fire take visitors on a wild ride through a 110m-long tube slide.
How much 1,290 baht (S$49.40) for children and 1,590 baht for adults. Find out more www.cartoonnetworkamazone.com
BLACK MOUNTAIN WATER PARK
A major attraction in Hua Hin, Thailand, this water park boasts a 17m-high tower with nine slides, a spectacular wave pool, a lazy river, a beach and an infinity pool, and a children's pool.
There are slides for children of all ages: The shallow Fountain Pool is great for toddlers to play in, while three- to six-year-olds will enjoy the Kids' Adventure Pool, an aquatic play land with water cascades and slides. For families who want to be in the water together, there is the Lazy River and the Wave Pool.
The park's more thrilling rides include The White Ring, which is an 83m-long open slide with many twists along the way. Then there is The Blue Snake, an 86m-long tube slide that is pitch black inside, so riders cannot see a thing until they land in the pool at the end.
How much Free entry for children up to four years old, 300 baht for kids aged five to 12 years, and 600 baht for adults. Find out more www.blackmountainwaterpark.com
If you're visiting INDIA
WATER KINGDOM
This water park in Mumbai is said to be the largest in Asia, with six zones for various age groups and experiences. For toddlers, there's the Goofers Lagoon, a multipurpose water play system with water guns, spinning trays, tilting buckets and other fun features.
Then there is the Lagoon, with 10 types of slides, including a few for the little ones, and the Bratzone, which has rain showers, laser lights and music.
The Adventures Amazonia zone has slides and rides for older children and adults. At Wetlantic, visitors can splash about or swim in the massive wave pool, which has strategically placed fountains and gardens.
How much: 600 rupees (S$12) per child, and 950 rupees per adult. Find out more www.waterkingdom.in
If you're visiting JAPAN
JAPAN WATER ADVENTURE TOKYO SUMMERLAND
One of the highlights of this expansive, mostly indoor water park is the glass-topped Adventure Dome, which houses a large wave pool and a variety of water slides that are ideal for the whole family.
Outside, in the Adventure Lagoon, you will find a 650m-long lazy river, manmade waterfalls, a swimming pool, and the adrenalinepumping Dekasla slide.
Designed for four to six people riding on an in flatable raft, the slide takes you through twists and turns before shooting you out into a funnel. From the bottom of the funnel, you are taken through a tunnel where you will exit into the pool below.
How much 2,000 yen (S$25) for kids aged two to six years, 3,000 yen for kids aged seven to 12 years, and 4,500 yen for adults. Find out more www.summerland.co.jp
If you prefer to stay in SINGAPORE
ADVENTURE COVE WATERPARK
Even if you've been to Adventure Cove Waterpark in Resorts World Sentosa, there's now a good reason to pay a return visit: The brand new Wet Maze.
If your kids love surprises and are not afraid of heights, this twolevel obstacle course will thrill them to no end. The ground level is a maze, where Junior will have to run the gauntlet of water blasters, water sprays and tipping water buckets as he finds his way out. If he is up to the challenge, he can make his way up to the second level for the Rope Course. There is no height requirement for this section, so kids of all ages can take part.
Once he is harnessed, Junior will have to navigate the various rope-based obstacles in mid-air. From this level, he will be able to watch others try to escape the Wet Maze below.
How much $26 for kids up to 12 years of age, and $36 for adults. Find out more www.rwsentosa.com